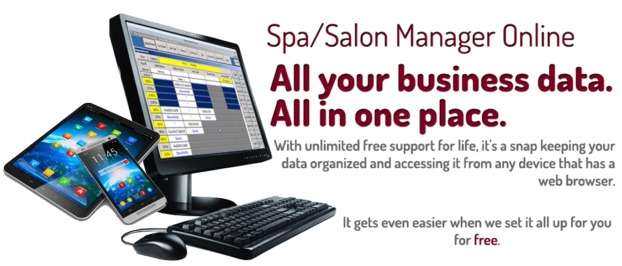 You are viewing our mobile website. To navigate click  ☰  at the left of the Spa/Salon Manager title. You may view the full site by clicking View Full Site.
Custom Setup for Free.
We'll make it work for you, complete with everything you need – and we'll do it all without asking for a credit card. We will do a complete custom setup of our software for your spa/salon, even before you pay us. We'll tailor the settings to precisely fit your business. If you have questions or issues with our software, we can instantly get on your screen and resolve most situations quickly.
Getting it all together
By keeping all information concerning your business in one place, Spa/Salon Manager fine-tunes and simplifies all aspects of your business.

Staff loves it
When it's easy for your staff to use the software, your business runs better.

Login Anytime, from Anywhere
Spa-Salon Manager – Online is available anytime, on any web-enabled device such as Android, iPad, iPhone, Tablets and home computers
Some other questions…
"I want GREAT tech support." Our support model is groundbreaking. We don't leave it to you to try to describe the issue to the tech guy. Instead, our engineer views your screen and solves the issue for you. There is nothing for you to do, all you have to do is sit back, relax, and watch on your screen how your situation is being resolved. In fact, you don't even have to watch it if you are busy with something else. "I want to have a life outside of my business" The Spa/Salon Manager automates all aspects of running your business. Staff management, payroll, customer experience and communication, inventory management, sales – everything becomes simple. "I want software my employees can start using in minutes" The Spa/Salon Manager has an intuitive interface that is a snap to use. Everything we do within the software is aimed at collecting as much information with as little effort from the employees as possible. "I want to enable my customers to book appointments online" Even the offline version of Spa/Salon Manager allows your customers to book, reschedule and view their appointments online. The web-based version also enables you to manage your business from anywhere; plus, your employees can use their handheld devices for work, instead of using dedicated computers. "I want to stay in touch with my customers" The Spa/Salon Manager offers advanced mailing and emailing functionality. It enables you to stay in close contact with your customers, and target marketing resources where they'll be most effective. Contact us:    1-800-682-2998